Fire & Smoke Damage Restoration Cleanup Company Florida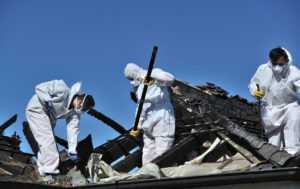 Fire damage can test your willpower to the limit by threatening your way of life and your home. It's a nightmarish situation, and one you'd rather not go through. But these things unfortunately happen – and when they do, Powerco Restoration is here to provide any assistance possible.
Our fire damage restoration service is an accessible and excellent solution to your problems! After the firemen extinguish your fire, our team will arrive and start the home restoration process. It will take a while, but after we finish, your home will be in its best state ever!
How do you deal with smoke damage from a fire?
The truth is, the fire itself isn't the only thing that can damage your house or business when it goes up in flames. Smoke and soot damage are just as bad. They will spread throughout the premises and cover every surface. Your furniture, walls, ceiling, floorboards, and any unburnt items will be smeared with soot and smoke. We can remove all that smoke and soot using our methodical techniques and cutting-edge technology. We can provide excellent smoke damage restoration to any home or business in Florida!
Our team comes fully armed with the best cleaning solutions to remove soot from any surface. We will clean and deodorize all areas affected by smoke. After all, you don't want your home to smell like smoke forever. We can also safely pack any unaffected items or furniture and temporarily take them away until we finish restoring your home. Our team can even restore essential documents damaged in the fire. 
With over seven years of experience in dealing with fire damage and other related damage, we're your best bet for a quick and perfect resolution!
Complete restoration from fire damage
The Powerco team has devised an efficient and comprehensive procedure to deal with fire damage of any kind. These are the steps we take:
Isolate your home from the exterior world, board up any broken windows, walls, and even patch the roof. While dealing with the fire damage, we don't want your house exposed to outside elements like rain or hurricanes.
With the client's permission, clean up or eliminate any affected materials or items in the house.
Remove excess moisture and humidity and dry out the premises. The firemen flooded your home while putting out the fire. We use top-grade dehumidifiers, fans, and other water extraction technologies to tackle the water damage.
Combat smoke and soot damage using the right techniques and procedures. Our fire damage restoration team has the tools and experience to restore your home to a vastly improved state.
Store and clean items and other materials that you can't store in your home anymore. We provide ample storage space and cleaning services for all of your fire-damaged items.
Assist the insurance company by documenting your fire and potential water damage.
Powerco fire restoration technicians will completely restore your home or business, using basic and advanced restoration procedures. At the end of the day, we'll handle over your premises in a near-perfect state – with no fire, smoke, or soot damage. We'll also handle the water damage and any other damage we find as comprehensively as possible!
Fire damage restoration near me
Powerco Restoration is always close by, ready to offer a helping hand in difficult times. We'll make your transition an easy and comfortable one. Whether it's fire damage, soot damage or smoke damage, our state-of-the-art technology and expert technicians can efficiently deal with them.
Contact us at (786) 909-5333 for expert assistance with fire damage in Florida!