Water Damage Restoration Service Miami Beach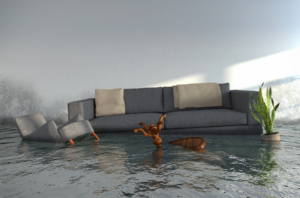 Thousands of Miami Beach property owners experience water damage every year. Even though Miami Beach is a beautiful city with picturesque scenery, it must tolerate the severe weather conditions that happen there frequently. But if hurricanes and floods don't cause water damage to a property, it could be a burst water pipe or faulty appliance that causes the damage.
After the cause of the water damage has gone away, one of the first steps you must take to resolve your water damage crisis is to remove the water and mold from your home or building. That is the only way you can restore your home back to normal again. It will not be an easy job to do, depending on the level of damage done. But if you call the right Miami Beach Water Damage Restoration Service, anything is possible.
Powerco Restoration offers a professional and efficient water damage restoration service in Miami and surround areas. The duties that our specialists can perform includes:
Damage Inspection and Evaluation
Water Removal
Debris Removal
Damage Restoration
Packing and Storing Your Personal Belongings
We offer our services to both commercial and residential property owners. Our company has been serving South Floridians since 2013. Whenever they need to have their water damage assessed and restored, they know who to call.
If you're interested in having an assessment of your water damage performed, you can dial (786) 909-5333.
Safety Tips to Prevent Further Damage
Whenever your water damage is the result of a plumbing issue, such as a cracked pipe or toilet overflow, then you should shut off the water main valve of your property. That will prevent more water from entering your plumbing system and leaking out through the pipes and toilet. If the water damage was caused by severe weather conditions, there is not much that could have been done.
When you're left with water damage in your home or building, you need to understand how to take respond in a safe and responsible manner. Below are some safety tips to guide you through this process:
If you see mold growth, stay away from it. Mold could cause you to develop respiratory problems.
If there are any fallen electrical lines or cables around your property, report them to the electric company immediately.
Mop the floors to remove excess water from them.
Turn off the main circuit breaker to prevent fires.
Remove valuable possessions from the property and store them somewhere safe.
If you managed to remove the water from the floors, run a dehumidifier in each room where water damage occurred. It might help slow down the development of mold.
Photograph the damage for your insurance company if you plan to file a claim.
It only takes a couple of hours for mold and bacteria to grow in a wet environment. That means you'll have a lot to do in a short amount of time. If you've followed the necessary safety tips listed above, you should file a claim with your insurance company to receive compensation for the repair costs.
Best Water Damage Cleanup Service in Miami Beach
Once you're done filing the insurance claim, you'll need to contact the best water damage cleanup service in Miami Beach. That service provider just so happens to be Powerco Restoration.
We have served the people of Miami Beach for many years and have always delivered high-quality customer service. When we're done cleaning up your property, there won't be a trace of water or mold anywhere. All of the debris will be gone and the damaged areas will be restored.
Call for help today at (786) 909-5333. Our operators are standing by.