Water Damage Restoration Service Miami Lakes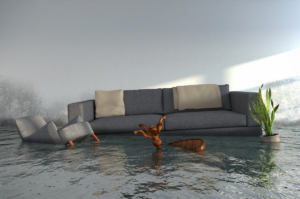 Natural disasters and plumbing problems can happen at your Miami Lakes property unexpectedly. Even if you take precautions to prevent these problems, there are no guarantees. All it takes is a hurricane, flood, leaky pipe, broken washing machine or overflowed toilet and you could end up with substantial water damage. It's even worse if no one is around to notice the water damage as it occurs in real-time.
When you finally discover the water damage, take steps to prevent the damage from getting worse. For instance, turn off your water main valve and mop up the water from your flooring. These two actions alone can do a lot to prevent more water damage.
The longer water stays on your flooring, the more damage it will cause. Not only does water have the potential to destroy your flooring, carpets and drywall, but it can also stimulate mold growth. Then you'll have a whole new set of problems because mold can also destroy your walls and floors too.
Powerco Restoration is a professional Miami water damage restoration service company. We specialize in inspections, assessments, water removal, damage restoration, debris removal, and packing and storing personal items. Call us at (786) 909-5333 so that we can get started saving and restoring your property immediately.
What We Do
Our specialties include assessments, clean ups and restoration services. Minor water damage problems can be restored quickly and easily. You won't always find it necessary to file a water damage claim with your insurance company if the damage is only worth hundreds of dollars. But if the extent of the damage is worth thousands of dollars, then you'll obviously want to file a claim and seek compensation from your insurer.
The first thing your insurance company will want to know is the estimated cost to repair the water damage. They might send an insurance claim adjuster to investigate the damage and come up with a value for it, but you cannot trust their estimations. Our assessments are far more accurate and detailed. We'll even provide the documentation of our assessments to your insurance company to prove the value of the damage.
As for the restoration process, it involves a series of comprehensive steps. The process includes the following actions:
Cleaning up all debris and other damaged materials.
Removing water from the floors.
Activating high-grade fans, dehumidifiers and blowers to remove moisture and water from the damaged rooms.
Removing smoke and soot debris as a result of fire damage (if any).
Assessing and removing mold from the property.
It is always better to have us restore the water damaged areas of your property as soon as possible. That way, you can please your insurance company by preventing damage from worsening as time goes on.
Keep Your Belongings Safe with Our Pack-Out and Storage Services
The restoration process can only take place if your precious belongings are stored away someplace safe. We will take it upon ourselves to pack your belongings for you and store them in a safe place until the restoration is completed.
We can pack and store the following items:
Photographs
Electronics
Kitchenware
Rugs
Textiles
Furniture
Documents
Books
Artwork
When we're done with the restoration, we'll return the boxes with your belongings in them. They will remain in the same condition as we found them.
Best Water Damage Cleanup Service in Miami Lakes
Powerco Restoration provides the best water damage cleanup service in Miami Lakes. The restoration and cleanup work are done professionally, quickly, efficiently, and thoroughly. If you'd like to make an appointment and take advantage of our service, call us at (786) 909-5333.