Mold Remediation Service Hialeah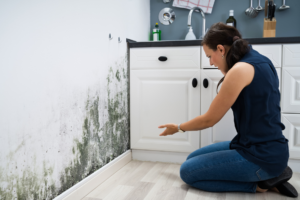 Mold is more than just an unsightly and foul-smelling substance on your walls, ceiling and furniture. It can also be dangerous to your health as well. When you inhale airborne mold spores into your lungs, it can increase your likelihood of developing respiratory illnesses. The longer you leave the mold unresolved, the worse it will be for the air quality inside of your home or building.
For this reason, you need to take the proper steps to remove mold as soon as it is spotted. Even if you have a little bit of mold on your ceiling, it could get worse. You need a Hialeah mold remediation service to eliminate the cause of the mold and the mold itself. Powerco Restoration has provided this service to the people of Hialeah for several years and they've all benefited from the results.
If you'd like an evaluation or price estimate of our mold remediation service, give our office a call at (786) 909-5333
Why Does Mold Form?
Mold does not just come from nowhere. It is often the result of moisture or water buildup from somewhere within your home or building. For instance, if you have water damage from a leaky pipe, burst pipe, runny faucet, overflowed toilet, flood, or leaky roof, then all that water buildup on the walls, floors, or ceiling will promote mold growth.
Remember that mold is a fungus which feeds on dead organic materials, such as wood, upholstery, carpeting, drywall, wallpaper and paint. But if you take away the water and moisture from the environment, the mold cannot survive in it. That is why you can save your furniture and walls by eliminating the water and moisture problem. 
Best Mold Remediation Service in Hialeah
Powerco Restoration is proud to be called the best mold remediation service in Hialeah. Homeowners and businessowners call us whenever the mold growth situation in their building is getting out of control. You shouldn't take any chances when it comes to mold because of how harmful it can be to your property and health.
For this reason, we offer our mold remediation services 24 hours per day, 7 days per week to anyone in Hialeah. We'll begin with a thorough on-site investigation to determine the severity level of the mold growth and its spread rate. Based on the results of our investigation, we'll create a plan for removing the mold and stopping it from coming back in the future.
Some of our mold remediation techniques include the following:
Use air filtration technology to eliminate airborne mold spores.
Apply disinfectants and antimicrobial solutions to destroy mold and prevent its growth
Sanitize all the mold-prone surfaces extensively
Repair or replace any damaged ceilings, floors, or drywalls.
Activate commercial quality dehumidifiers to eliminate moisture buildup
After all these mold remediation techniques are implemented, you should see your mold growth problem disappear quickly. Then all you need to remember is to prevent future mold growth by keeping your indoor environment cool and dry.
If there is ever any water damage from a leak, then try to resolve the problem as quickly as possible. And if the mold ever comes back because of the water damage, give our mold remediation professionals a call.
Contact Us Today
Powerco Restoration employs top quality mold remediation specialists in Miami and surround areas. We have the technology, experience and expertise to remove mold from your property and stop it from coming back again.
Does that sound like the type of service you need right now? If so, please schedule an appointment with our mold remediation specialists by dialing (786) 909-5333.