Water Damage Restoration Service Tampa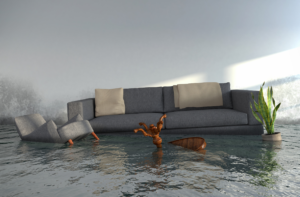 Tampa is a charming city in Florida known for its enjoyable outdoor life and year-round warm weather. This is probably the reason why the city ranks third in the United States when it comes to the most number of pools in households. Based on a study conducted by lendingtree.com, the city rakes a share of 27.7%, raising house values to $296,000. This however suggests that water leaks from backyard pools are also common. These leaks can ruin lawns and flood basements resulting in water damages. Powerco Restoration are experts in water damage restoration in Tampa.
How Bad Is Water Damage?
Water damage are the possible losses resulting when water intrudes materials and properties. Their sources can range from minor home leaks to natural disasters such as hurricanes and storms. Once affected, some properties are rendered useless or needing repair. Water damage manifests itself in the rotting of wood, mold and bacteria growth, rusting of metals, wicking of walls, and many others. 
It might be tempting to underestimate the effects of water damages, but avoid doing this at all costs! Not only is it bad for your properties, it is bad for your health too. When left unchecked, mold infestation might occur. This can be dangerous to everyone and particularly to those who have sensitivity, allergies and immune suppression or underlying lung disease. Effects can include wheezing and itchiness of eyes and skin. Medical reports say that in extreme cases, it can result in fever, shortness of breath and asthma development in some children.
Have you heard about black water? These are water contaminated with human and hospital waste, pharmaceuticals and other toxic materials. They can carry germs and bacteria that can potentially transfer from one person to another.
Aside from these, water damage can also lead to hazards that need utmost attention. Some of these hazards include electrical supply and appliance damages. If ever faced with the dilemma of how extensive the water damage is inside your homes, call (786) 909-5333 or use our contact form here.
How Powerco Restoration Can Help You
Powerco Restoration is the authority in water damage restoration in Tampa. Backed by years of experience with residential and property damages, you can only expect unparalleled assistance during this difficult time in your life.
We only have the best people in our team to evaluate and estimate the extent of water damages in your home. This will help you once you start negotiations for a fair settlement from your insurance company. We deal with water damages coming from
Broken or burst pipes
Hurricanes
Leaking roof
Rainstorms or hailstorms
Plumbing leaks
Sewage back-ups
Foundation leaks
Broken sinks or clogged toilets
Our state of the art technology and restoration procedures ensure that you can only expect excellent and prompt resolutions to your water damage problems. We employ high-grade fans, blowers and dehumidifiers for extracting excess water after a flooding incident and drying out your home. 
We also have efficient pack-out & storage services to provide you the peace of mind that all your belongings are safely stored off site while we do our restoration magic to your homes. Whether they are small items such as an artwork, a photograph, kitchen utensils or larger ones such as furniture and some electronics, you can trust us that we shall keep them clean and get them back to their tip top shape in no time!
 With our knowledge, expertise, technology, and commitment, we can guarantee to provide you the efficient water damage restoration services that you are looking for. Remember that you deserve the best – and we always push ourselves to provide perfection!  
For more questions and information on water damages and our offered services, please call (786) 909-5333 or use our contact form here.