Water Damage Restoration Service Port Saint Lucie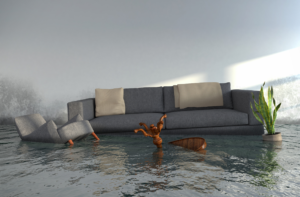 Ever considered buying a home and retiring in Port St. Lucie? Ranking third in the best places to retire in America according to www. realestate.usnews.com, the city is one of the safest and greatest places to raise a family in Florida. But before buying one though, you might have considered various factors such as costs, safety and the likelihood of your property getting hit by any type of disaster. A study done by Florida State University tracked historical information from way back in the late 1800's and established that the city lies in the hurricane's path making it second among Florida cities most vulnerable to the disaster. Hurricanes are the most common sources of water damages and if you are looking for the top authority in water damage restoration in Port Saint Lucie, Powerco Restoration is to your rescue. 
What to Do in Cases of Water Damage
When water occupies our home and starts to wet everything that is placed on the floor, we can't help to worry. After all, it is unavoidable as water damage restorations can extremely be costly. 
There are ways on how to fix water damage inside our home. The best thing we can do is to address possible sources first. This includes leaking roofs and pipes, overflowing of bathtubs or sinks, and blocked drainage outside. Practical ways such as fixing our pipes or roof immediately if we notice that they have leaks is the best place to start. If you are in a location where severe weather could be the cause, you should prepare and evacuate your things that could be harmed by flood and storm when disaster strikes. These are just a few things that can help us avoid water damage before it even occurs.
Even after it occurs, we can also address water damage on our own. We could dry our things and check if something got blemished and tarnished by the water. For affected woods, we should check if there are molds that could result in worsening of damages. Mold growth is another possible effect when wood is left to dry on its own. Mold can be dangerous as it can create health problems that could harm people. We can also cut power lines if our house is totally occupied by water. However, this can be very dangerous and it is thus advisable to ask the help of experts in cases like this. Call (786) 909-5333 or use our contact form here today so we can assist you in assessing the extent of water damage in your homes and provide you the assistance necessary.
What to Look for in a Water Damage Restoration Company?
When choosing the best water damage restoration company, individual preferences might come into play. However, it is still safe to provide benchmarks to help you in your decision.
Availability
Disaster can happen anytime. It can happen while you are at work or sleeping at night. Whether these are water damages from your homes or from a natural disaster, it is important that there is a response at the time you need it most.
Expertise
Dealing with water damages can be very difficult and confusing. This is the time that you will need the help of a water damage restoration company that has certified and trained personnel, a proven process and excellent customer service. Nothing can make any owner feel secured than expert assistance from loss evaluation to insurance claim process assistance.
It also goes a long way if they have people who can serve with a smile.
Professional Equipment
Together with expertise, having professional equipment definitely helps in speeding up the water damage restoration process. This might include moisture and humidity gauge, dehumidifiers, water extraction units, blowers and portable water extraction units. These can minimize the risks of growth mold on affected belongings and save costs in storage services and temporary accommodation while your property is getting restored. 
Powerco Restoration and Your Water Damage Restoration Needs
With almost a decade of industry experience serving both residential and commercial property owners, Powerco Restoration provides an extensive range of water damage services throughout Florida. We offer services on water damage from
Broken or burst pipes
Hurricanes
Leaking roof
Rainstorms or hailstorms
Plumbing leaks
Sewage back-ups
Foundation leaks
Broken sinks or clogged toilets
If you are looking for top notch services on water damage restoration in Port Saint Lucie, call (786) 909-5333 or use our contact form here today. Our team of qualified and trained personnel have state-of-the-art equipment and is available 24/7/365 to help you restore your property to its former glory.