Water Damage Restoration Service Key West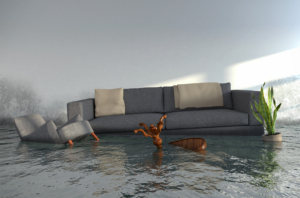 Located in the middle of the ocean, Florida's Key West has an average elevation of about five feet above sea level. The threat of climate changes has made this lovely island very vulnerable to water damages. Over the past decade, floods are starting to become a norm with residents usually waking up to find seawater on their streets. To manage these, residents modified their homes to keep flooding at bay and started looking for an authority on water damage restoration in Key West. Powerco Restoration with its team of certified and highly trained personnel have wealth of experience in dealing with restoration and repairs.
Call (786) 909-5333 or use our contact form here today to know more about how we can help you with your residential water damage problems in the island.
Broken or Burst Pipes
Though Key West's water damage problem is mainly sourced from the rising ocean water level, broken or burst pipes are still one of the top reasons why people call for water damage restoration experts. A burst pipe seems to be more of a plumbing emergency, and that's correct. If unattended however, it can allow water leakages to walls, ceilings, and floorings. A clean leak might usually be all that is left to see, but there are many hidden costs if one fails to attend a broken pipe. This includes damaged insulation and wiring, rotted out structures and mold. With our timely response and a team of highly trained personnel, we can help you control the damage done.
Hurricanes
Besides from the threat of rising sea level, another source of water damage in Key West are hurricanes. Aside from strong winds and storm surges, these natural disasters also bring an amount of rainfall sometimes as much as 10-15 inches, on areas they pass over. This leads to many properties and belongings getting exposed to water intrusion which can later on damage their materials. Through our comprehensive clean-up, pack-out and storage services, we can help you keep the lives of your properties longer. 
Leaking Roof
A leaking roof is a sign of roof damage. Whether it is a broken gutter or downspouts, cracked or missing shingles, a leaking roof can cause more problems if left ignored for quite some time! With almost a decade of experience backing us up, we can conduct meticulous inspection and extensive evaluation to your property so we can identify the culprit and give the justice it deserves.
Rainstorms or Hailstorms
Hailstorms are very rare in Key West. However, the monster hailstone with a size of almost three inches recorded in 2003 shows that the city is not spared from this calamity. Hailstorms, though not a direct source contributes to water damage as it can cause roof damages and eventual roof leakages. With our technicians, water damage resulting from hailstorms can be responded to immediately. We're always ready to dry up your premises, clean up the mess, and proceed to the repairing process!
Plumbing Leaks
Leaks can be sneaky and learning how to detect one on your own can be a lifesaver! Unfortunately, not everyone has the expertise to find these hidden things that calling an expert can save you from more problems such as water damages. With certifications and qualifications on their belts, our team of professionals could not only help you find these sneaky leaks, they could also provide solutions for these problems.
Sewage Back-ups
Not every water damage restoration company is made equal. This rings true for water damage cases that involve sewage back-ups or that we call "black water category". This type of water damage can be extremely harmful and is not advised to be handled by persons without proper training to handle such. Powerco Restoration does not only offer a team of trained professionals, we are also equipped with professional and state of the art equipment to have this problem addressed in no time.
Foundation Leaks
With Key West threatened by the rising sea level, it is no wonder that the occurrence of foundation leaks is also high in the area. This eventually leads to water damage not just to your own home but also to your neighbor's property. To remedy and avoid further damage and possible liabilities, seeking the help of a trusted water damage restoration company can be the best decision you'll ever make. Our expert team has had extensive experience with all facets of commercial and residential water damage throughout the years.
Broken Sinks or Clogged Toilets
As an authority in water damage restoration in Key West, we know that water damage from broken sinks or clogged toilets are not advised to be handled by just any other person. Falling under the category of gray water, this type contains a small amount of toxins and chemicals that can be harmful to the health of those who come in contact with it. Not only do we have the training, qualifications and expertise to handle this type of water damages, we also have professional equipment to help you receive a fast and reliable service.
Why Powerco Restoration for your Water Damage Restoration Needs?
As an authority in the water damage restoration industry, we offer an extensive range of services to match every homeowner's needs. In our years in service, we have handled water damage stemming from:
Broken or burst pipes
Hurricanes
Leaking roof
Rainstorms or hailstorms
Plumbing leaks
Sewage back-ups
Foundation leaks
Broken sinks or clogged toilets
Call (786) 909-5333 or use our contact form here today and we'll be glad to help you with anything – from a leaking roof to burst pipes, hurricane damage, clogged toilets, and more. Trust us that we know that your safety matters most.