Free Property Damage Inspection Company in Florida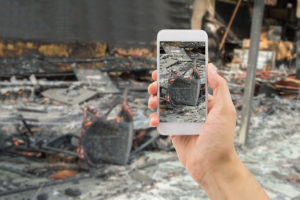 When your property incurs damage, you need to estimate your losses so the insurance company can provide you with an adequate settlement. This is where our inspection assessment company comes into play. Powerco's team can inspect and assess your property for all kinds of damage, including:
Water and flood damage
Fire and smoke damage
Storm and hurricane damage, or other types of wind damage
Mold damage and the related mitigation, restoration, and remediation costs
We are as comprehensive as possible, because homeowners in Florida are often confronted with extraordinary weather events. A hailstorm can quickly turn into a lightning storm that leads to water and fire damage. Lightning can strike your garage and set it ablaze. Hail can dent your roofing and eventually penetrate through the tiles, so the roof will start leaking.
Upon noticing these damages, call us at (786) 909-5333 so we can begin the home inspection immediately!
Excellent assessment with Xactimate
Xactimate software is the industry's leading software for damage inspection and assessment. Our company has been using this premium software for more than seven years, with astounding results. We perform top-quality inspections on residential and commercial properties. The extent and the precise cost of a home renovation job will become apparent after we complete our assessment.
We take these steps when using Xactimate to inspect your home for damage:
Assess all the losses
Create a sketch of the structure
Go through a comprehensive analysis of the restoration costs
Reverify the cost estimate and ensure it's accurate
Hand the estimate over to the insurance company
Powerco's inspection assessment company uses a professional and meticulous methodology to document your home damage and repair costs. Our approach is foolproof when it comes to negotiating with the insurance company. In our experience, insurance adjusters never deny or refuse our cost estimates. Xactimate is certified software for professional home assessments!
Promptness and efficiency
When water or fire damages your property, there's no time to lose. Flooding can quickly spread to other parts of the house and ruin your furniture and other belongings. The same goes for a fire. You need to expedite the repairs and receive a settlement from your insurance company to cover the costs. Doing this work yourself or hiring unprofessional companies will only slow down the proceedings. Moreover, the cost estimate will probably be inaccurate.
Therefore, it's smart to hire a professional team that uses cutting-edge technology to do the work for you. We're the best home inspection company in Florida and can assess water damage, fire damage, wind damage, mold damage, and other types of damage. Regardless of your mishap, we're confident we can deliver an accurate cost estimate for all the required repairs. We can also perform those repairs and restore your home to its pre-damaged state.
Emergency home assessments in Florida
Our company provides top-grade home inspections for various types of damage to both residential and commercial buildings. There's no need to hire another company for the examination and subsequent repairs. Our services are comprehensive and include a meticulous damage assessment and restoration services for your property.
Contact us at(786) 909-5333 and tell us about your situation! Our customer service reps are always on hand to answer your questions and give you a free estimate for our services. Once you decide to hire us, we'll send a team to your place to assess the damage, begin the repairs, prepare a cost estimate, and give it to the insurance company. Powerco helps you when no one else can!