Water Damage Restoration Service Jacksonvile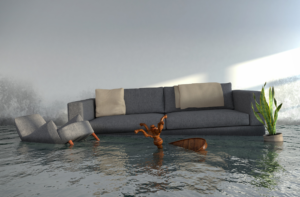 Jacksonville is a water lover's dream. The city teems with uncrowded white sand beaches, top notch fishing spots, more shorelines than any other Florida City can offer; and an extensive reef system that has one of the best diving spots on Florida's east coast. It is indeed true when people say that it is always beach season in Jacksonville. However, this also makes it one of the top Florida cities which have the high counts of major rainstorms, thunderstorms and hurricanes. These natural calamities are some of the usual causes of water damages in the area. Luckily, you can hire professionals from Powerco Restoration for water damage restoration in Jacksonville, Florida.
Water Damage Classifications
Natural calamities such as storms and hurricanes are some sources of water damage. However, water damage can also come from leaking roofs and faucets, busted sinks, pool overflows, faulty appliances and blocked toilets. Knowing this would help in classifying water damage categories.
Category 1 Water Damage
Jacksonville's location and features make it one of the stormiest cities in Florida. This makes Category 1 Water Damage prevalent in the area. This category covers losses from water that does not pose a threat once ingested, touched or inhaled. Other sources are from broken water supplies and overflow from containers. 
Category 2 Water Damage
Also known as gray water, this type of water can be unsafe as it contains levels of microorganisms, chemicals and biological wastes that can be considered unsafe to humans. This usually comes from used water from washing machines and sinks.
Category 3 Water Damage
This is the most dangerous of all as it is grossly contaminated and has harmful pathogenic and toxigenic agents. If left unattended, this is highly dangerous to people's health and can even be fatal to some. Sources include sanitary sewer backups and other flooding incidents that might have carried pesticides, metals and other chemicals inside your homes. 
What to do to Prevent Water Damages
The old adage, "An ounce of prevention is better than a pound of cure" rings true in water damage cases. As restoration and repair fees can be costly, it is important to have a regular inspection and maintenance measures on areas where damages are likely to occur. You can call (786) 909-5333 or use our contact form here for a free inspection on your property. 
To avoid water from damaging your home, it is advisable to conduct preventive maintenance to the outside and inside areas of your properties. Outside areas might include trees and shrubs that can break utility pipes with their overgrown roots and clog downspouts and gutters with their fallen leaves. 
Inside your property, it is important to check water pressure as it might fail your hoses and pipes. Your appliances should also be routinely checked for leaks particularly for refrigerator and washing machine hoses. Knowing where your water main shutoff and monitoring the water bill are also practical ways to prevent water damage inside your homes.
How Powerco Restoration Can Help in Your Water Damage Problems
As top rated experts in water damage restoration in Jacksonville, Powerco Restoration guarantees to assist you in properly assessing the water damage category your properties are in and providing you with proven solutions that work. We promise to work not just in restoring your properties, but also your sanity. We know that dealing water damages can make you feel vulnerable to fears and all sort of negative emotions.
Our professional assessment and home restoration services cater to all types of water damages from 
Broken or burst pipes
Hurricanes
Leaking roof
Rainstorms or hailstorms
Plumbing leaks
Sewage back-ups
Foundation leaks
Broken sinks or clogged toilets 
With our knowledge, expertise, technology, and commitment, we have successfully helped many home and business owners overcome disastrous incidents. Call (786) 909-5333 or use our contact form here today to know more about our services and how we can help you with your water damage problems.